2020 Champs – Matric farewell: Capturing years of memories
Capturing years of memories – Matric farewell of the little boys with red overalls
Citrusdal – the lonely planet with unspeakable beauty
It was August 2006. Setting the scene for capturing years of memories. It was one of those extraordinary years in the Western Cape. As far as the eye could see, flowers were in bloom.
At that stage I was living in Citrusdal, renting a one bedroom flat and working 25km out of town where I owned Into Ihlathi Adventures. Citrusdal is a beautiful place but can be just as lonely as beautiful if you are an "inkomer" (someone coming from the outside – never really seen as part of the community) as called by the locals.
Friends on their way
It was with great excitement that I waited for my friend's arrival, coming from the area where I grew up near Standerton. Connie and I matriculated the same year in Standerton – with a lot of memories and stories of mischief to tell.  For friends there are always space, even for a five member family in a one bedroom flat.  Many times it is these things that make moments special.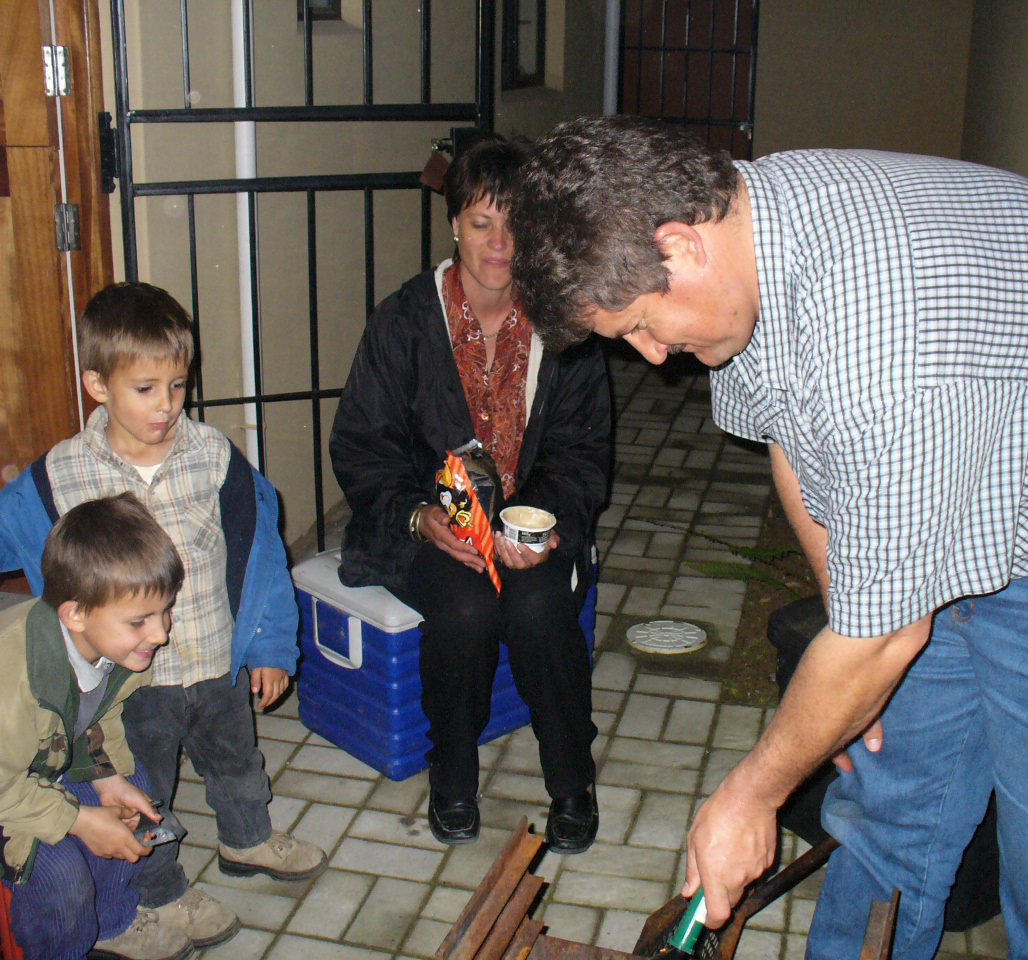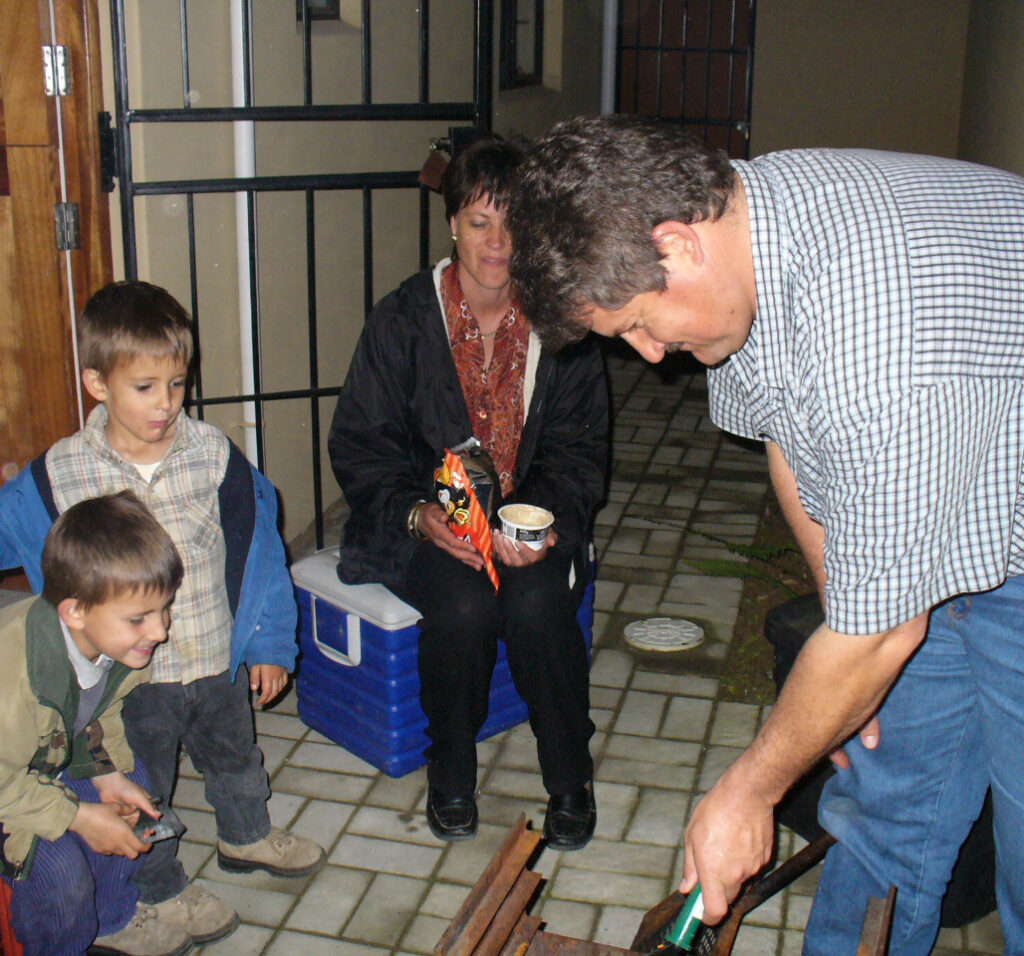 And if there is space there must be a 'braai' (barbeque). The only space though was the square at the back of my flat under the washing line. I owned the bare necessities and chairs were not part of that. Sitting on crates and a cooler box around a one-man "braai", is still something we talk about. It was one of the best "braais" ever.
Biedouw Valley
Biedouw valley has a warm place in our hearts. That specific year the flowers were just beyond beautiful. Early the next morning, we all got into my 1957 Land Rover and headed for Biedouw valley. Henco the eldest was not in school yet and Jacolien the youngest was a little toddler.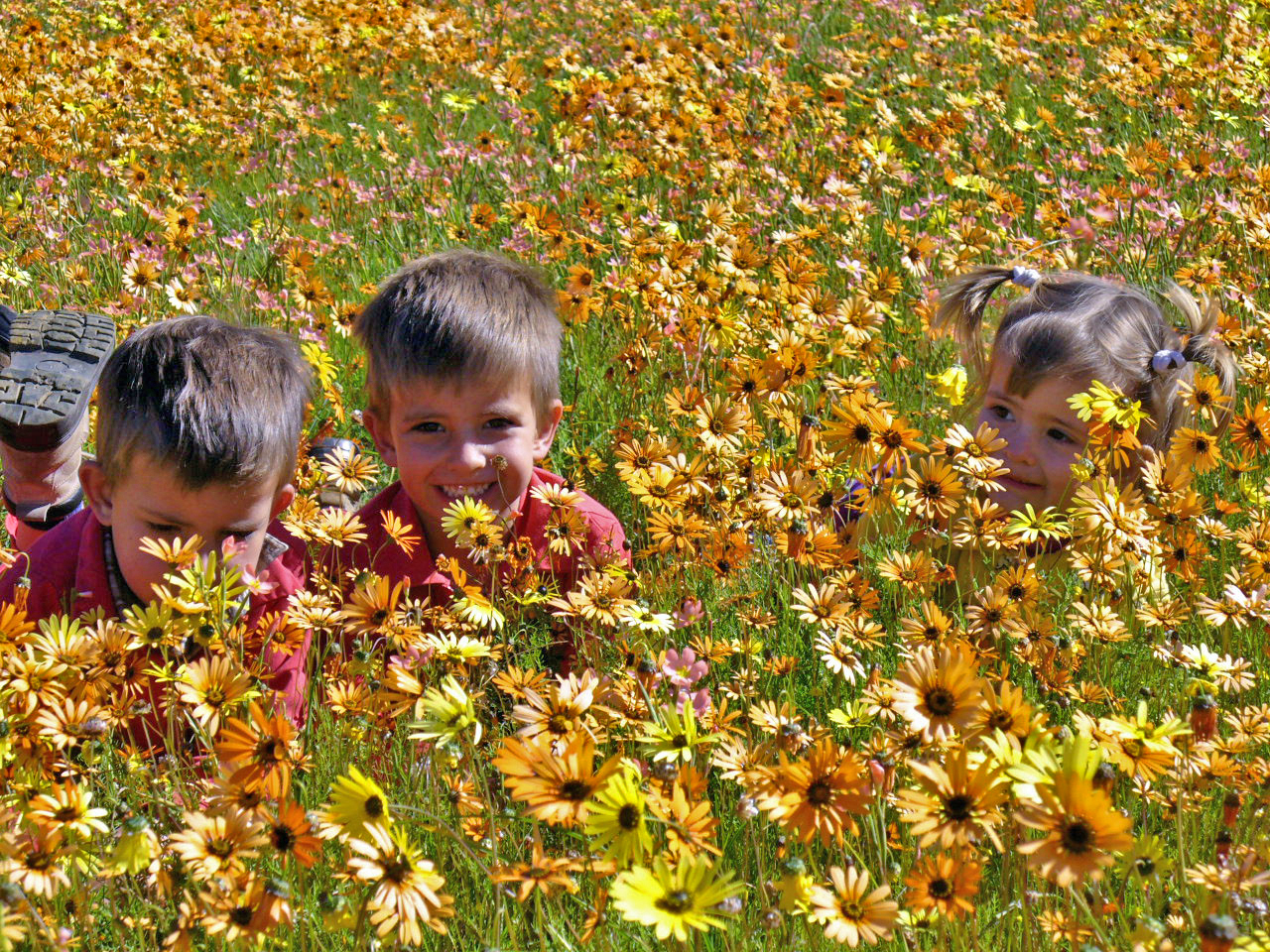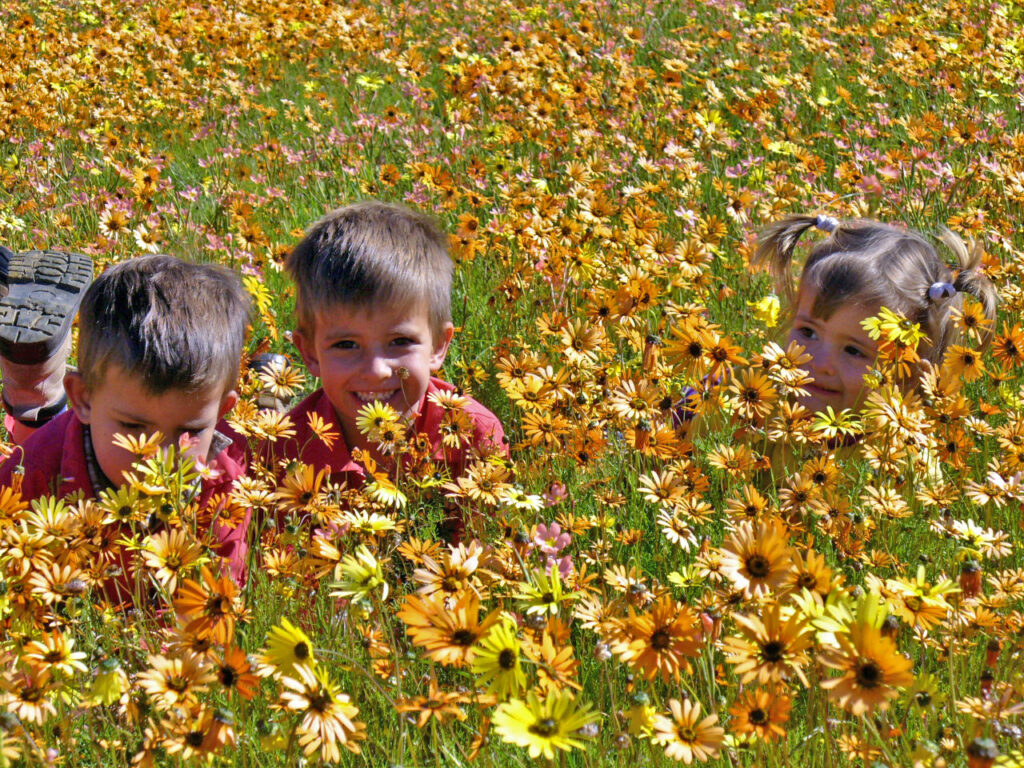 The Land Rover that won't brake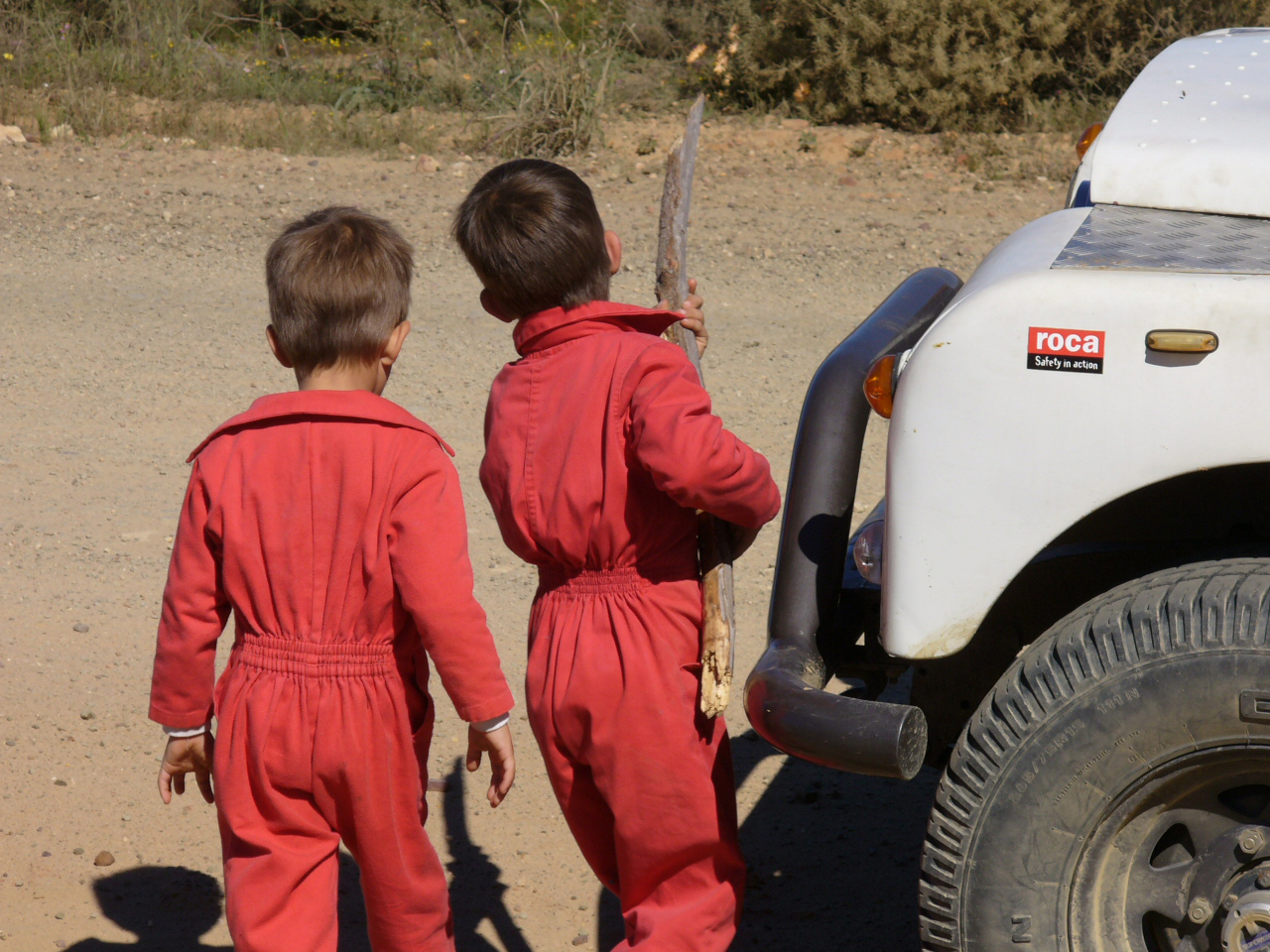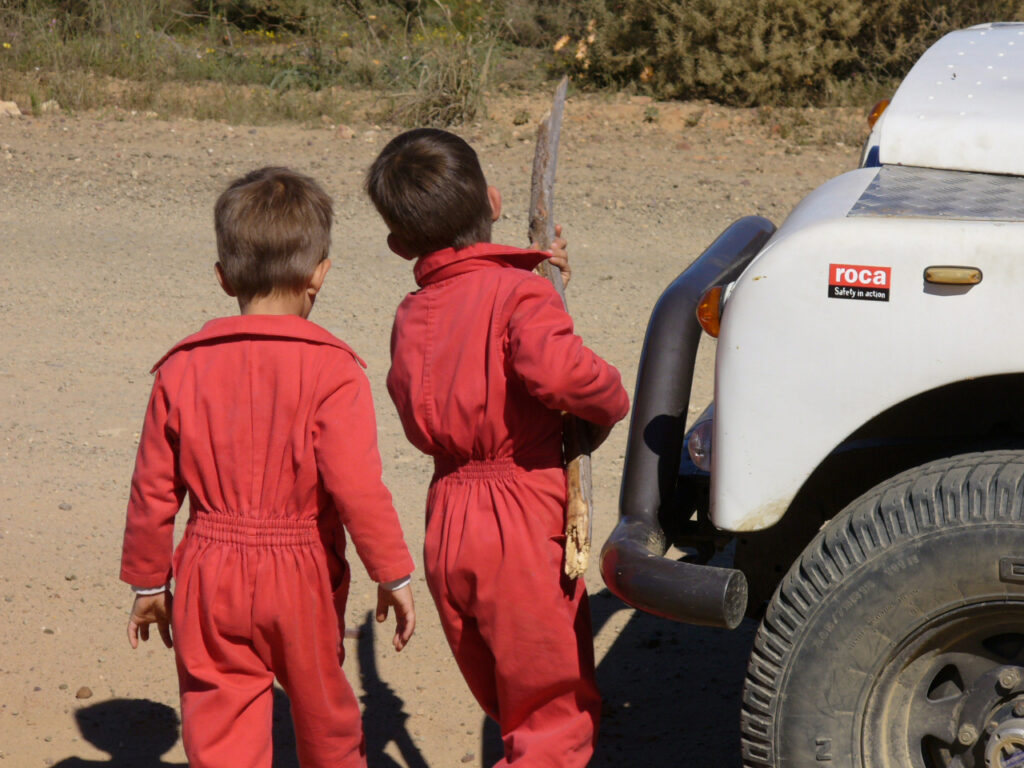 The Land Rover made sure we had another memorable moment – in true old Land Rover style! Somewhere between Citrusdal and Clanwilliam, at a very crucial moment, the Land Rover decided that it won't break, come hell or high water. Off course just to make a miracle happen you know.
The mobile clinic van was in front of us, with a truck approaching from the front.  The clinic van slowed down and pulled half way of to the left with no indicator on.  As there was a gate to the left, I assumed that the driver was going to turn left but lo and behold!  The van stopped dead halfway in the road.  I started to break frantically, but with a 1957 Land Rover, nothing happens fast.  The second option was to accelerate and try to pass the van before the truck hits us from the front.  But accelerate happens with the same speed as braking with the old Land Rover.
A crash with the van or the truck or both (more likely both) were inevitable. That road was very narrow and there was just not enough space to pass through the middle.  The fact that I am writing this blog, states the obvious:  We did pass through the middle!
We continued to Clanwilliam in dead silence. When we stopped in Clanwilliam, we were trembling like reeds and looked like ghosts. The three children were oblivious of what happened – we only told them years later.
A big Bar One each sorted our nerves out and we thankfully continued to Biedouw, knowing that we were saved by a miracle.
We had an unforgettable time in Biedouw and are still alive to tell the story.
In 2018 Henco matriculated and I went through to take his photos. This year it was Christo. The two little guys in the red overalls are now grown men! And soon the little toddler, Jacolien will finish school.
To photograph their matric farewells, were not just another shoot, but a privilege loaded with memories. It is litirally capturing years of memories.
Christo was one of our 2020 Matric hero's – the year that we all remember for Corona Covid-19 and the disruptions it caused, especially for the grade 12's. But the yellow plane in the Biedouw valley tells a story.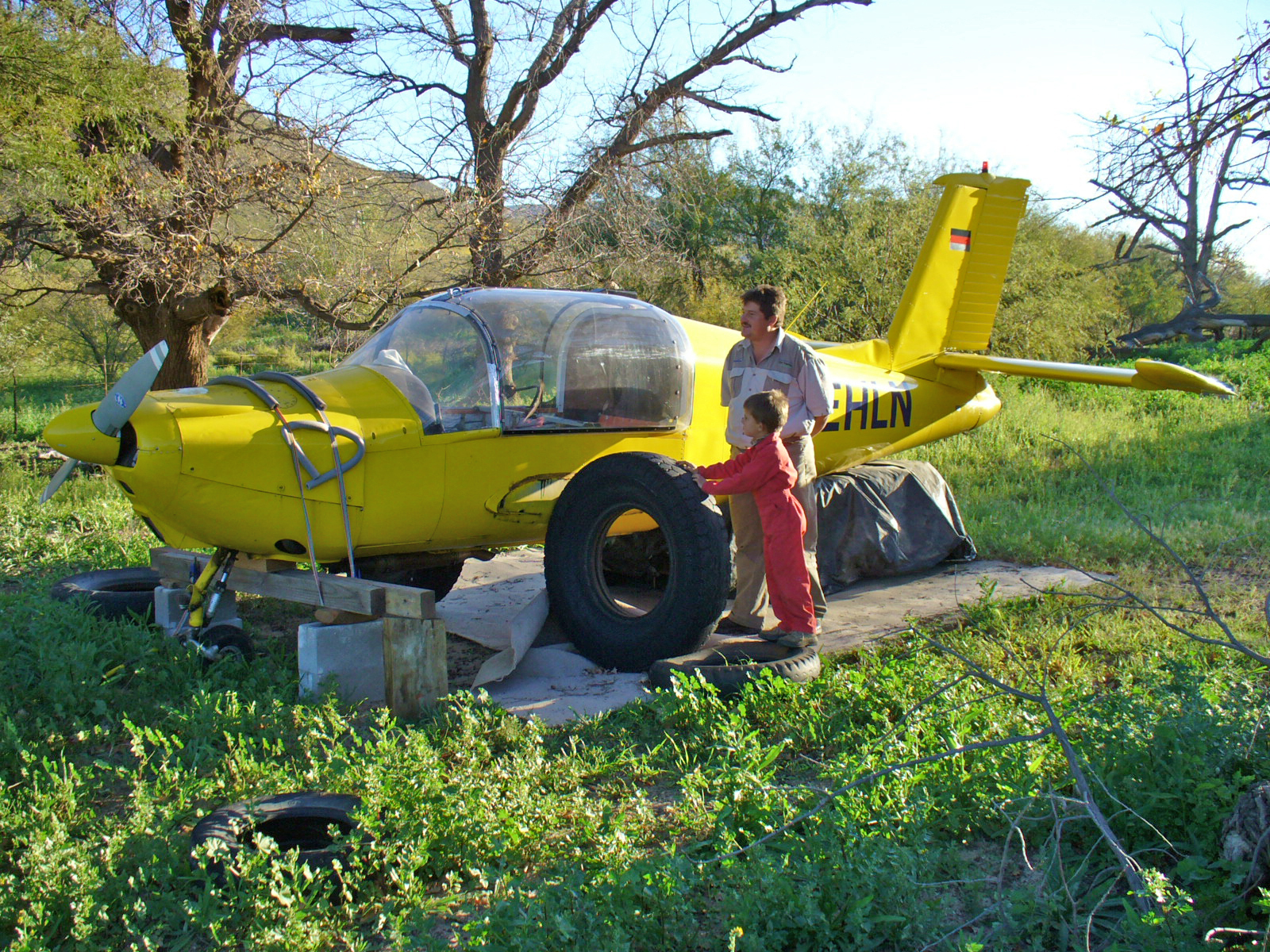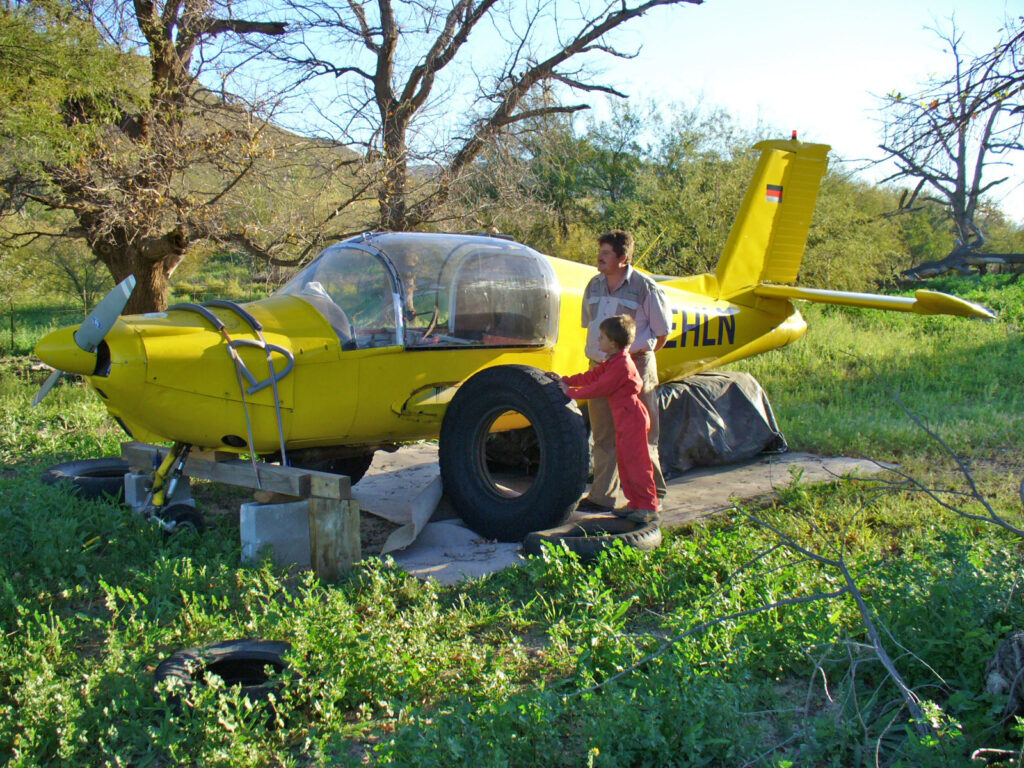 Christo was born to fly…when the stormy winds of life threaten to knock you down, may you have the courage to spread your wings and fly! (Lance Wibbels)