Portrait Photographer Gauteng | Pretoria

Board Member Headshots |Business Headshots | Business Profile Photography | Corporate Portrait Photography | Model / Actor / Entertainer Portfolios | Musicians.
"In photography there is a reality so subtle that it becomes more real than reality."
Alfred Stieglitz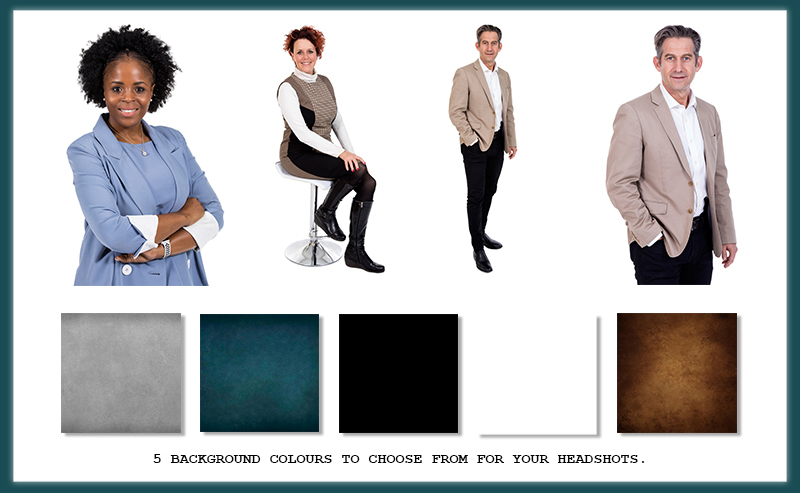 Why should I have a professional profile picture?
How important is your profile picture?

You only get one chance to make a favourable first impression. When it comes to your online presence, you rely heavily on your profile photo for this first impression, as people see the picture before they move on to read your profile. Research has shown that it takes less than 100 mile seconds for us to make up our minds based on seeing a person's photograph.
Your profile picture visually defines you.

Your profile picture visually defines who you are and how you want to be seen by others. This applies not only to your profile photo on LinkedIn but on other social media platforms, and the photos that you use on your business website.
What can you do to create the best first impression? You should consider getting professional headshots for you (and your staff).
The positive impact of a great profile picture.

By using a high-quality photo that represents you in the best light, you can show prospective job or business contacts that you are approachable, confident, and professional. This helps to build trust, helps you get noticed, and may help you get a new job or pick up a new contract.
By Paul Burgess Photography/Seven Oaks District Chamber of Commerce
---
We specialize in on-location portrait photography.
Headshots and portraits on a white background
Headshots and portraits in an office setting
Outdoor and other headshots and portraits
Reasons To Hire A Professional Portrait Photographer
These days many people have access to great cameras, but the majority do not know how to use them out of automatic mode. A professional photographer knows their camera like the back of their hand, enabling them to concentrate on their artistic vision and taking photos their clients are proud to share.
A professional photographer has an understanding of composition and knowledge of how light affects the final outcome of an image. This produces a superior result.
A professional portrait photographer has studied photography and dedicated time in professional development courses to stay up to date with ever-changing technology to produce the highest quality photos for their client.
A professional photographer will take the time to educate themselves on what each client is looking for in their final product and plan a photo session accordingly.
Professional photographers invest in high end software, computers and camera equipment (in particular, lenses) to bring the highest quality to the final image.
---
Also have a look at our other services.
---
PORTRAIT PHOTOGRAPHY AND BUSINESS HEADSHOTS BLOGS: