Rejection, criticism and triumph
Rejection criticism and triumph seem to walk hand-in-hand 
in life.  As I sit here, I can't think of
any success story that came without these 'elements'.  
For the next auction I photographed
work from various artists.  Not only
artists, but at the end very successful artists.   
Then of course, I can't help to mention the great leader
Nelson Mandela too and a landmark graphic work on his life.
Enjoy their stories of rejection, criticism, hardship,
poverty but ultimate triumph with me:
WH Coetzer Stillewes
WH Coetzer stillewes/Still lifes. Bronze Edition. Limited to 80 numbered copies ,bound in buffalo leather with embossed image of WH Coetzer by Isa Steynberg-Wiechers in bronze on cover.
From rejection to be in great demand.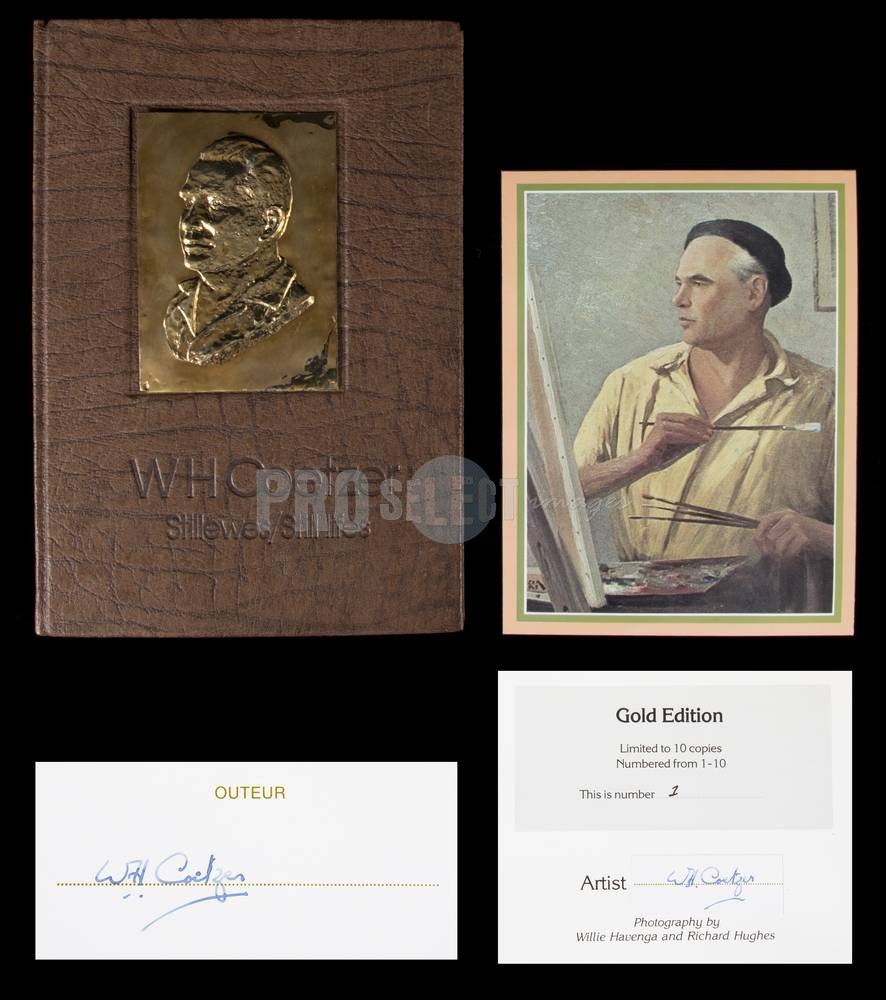 Willem Hermanus Coetzer was born on 9 November 1900 in Tarkastad in the Eastern Cape. When he was two years old, the family moved to Johannesburg, where they first lived in a simple house on Main Street in Braamfontein. Within a year they moved to Fordsburg , where they remained until 1908 . His father worked on the mines. Before the age of five, he started school at Lilian Road Infant School in Fordsburgand. In 1908 he went to the Good Hope School in Fordsburg, one of the very first Christian National Schools of Education. His family moves again later this year. This time to Lakeview and he attends English Booysens Government School.
Selling newspapers
To make extra money, he sold newspapers to the soldiers who waited in the Booysens camp for their participation in World War I. In 1914 he obtained a merit bursary for a further three years of study as an apprentice at the Ambagskool in Braamfontein. By the end of 1917 he began working as a qualified coach builder. In his spare time, he continues his art and writing.
Correspondence course at Press Art School in London
In 1920 he applied for a correspondence course at the Press Art School in London. He saved enough money through his work and in 1925 he left for a study trip to London, which was not particularly successful due to a lack of money. Upon his return, he resumed his job as a coach builder at J. Jenkins and Son.
Rejected every year
During this time he annually submits his work to the South African Academy of Arts and this is rejected every year. In 1928 Alfred Palmer, one of the judges, accepted one of Coetzer's pastel drawings and asked to meet him. Under Palmer's encouragement, he holds an exhibition of his work and raised enough money to leave for London to study further in the arts.
When he shows his work at the London Polytechnic School of Art, they initially reject him, but accept him when he shows Alfred Palmer's letter of recommendation. Here he studied under Harry Watson and Giffard H. Lenfestey, while studying etching under William Palmer Robins.
He visits Germany in 1928, where he saw, among other things, the battlefield at Delville Forest, which made a big impression on him. In 1929 he travelled by bicycle through France, Switzerland and Italy.
Visiting Germany
Out of about 250 art students, his still life "The dusty shelf " , won a first prize medal in 1930. This painting is later purchased by the Art Gallery in Johannesburg. He visited Germany, Austria, Italy, France and Spain in 1930. In 1933 he returned to South Africa. He spent three weeks at the home of General Jan Smuts on his farm in Doornkloof in Irene to make sketches. In General Smuts's library, he began to read about the Voortrekkers in Gustav Preller's books, and so began a particular interest in the Afrikaner's history.
Study of the Voortrekkers
In 1934 he returned to the London Polytechnic School of Art with the aim of mastering the art of portrait and figure study. Upon his return in 1935 he made a thorough study of the Voortrekkers and he became the artist who portrayed Afrikaner history and folk life. He is appointed to design souvenirs for the Voortrekker Centenary in 1938 and the opening of the Voortrekker Monument in 1949. Some of his designs include soup cups, ashtrays, pocket knives, spoons and postage stamps. His artworks are widely known and he gets very good prices for them. In 1939 he was a substitute for six months temporary lecturer in Art at the Potchefstroom Normal College.
Ill from a stroke
He became seriously ill from a stroke in August 1945, causing a great demand for his work. For the next six months he was in and out of the hospital, but recovered completely. His work is included in the 1948 exhibition of South African art on display at the Tate Gallery in London and also in Europe and America. In 1952 he finalized the tapestry for the Voortrekker Monument, a task that kept him busy for five years.
Commissioned
During these years he was repeatedly commissioned to paint portraits of important persons, including Totius, JG Strijdom , Mimi Coertse and DF Malan . He visited London again in 1948 and 1971. In 1969 he donated some eight hundred etchings to the Johannesburg City Council. In his later years she began to give eyesight. As a founding member, he is also president of the Brush and Chisel Club and a member of the Africana Committee. He died in Johannesburg on September 29, 1983.
Paul du Toit Sculptures/paintings 2001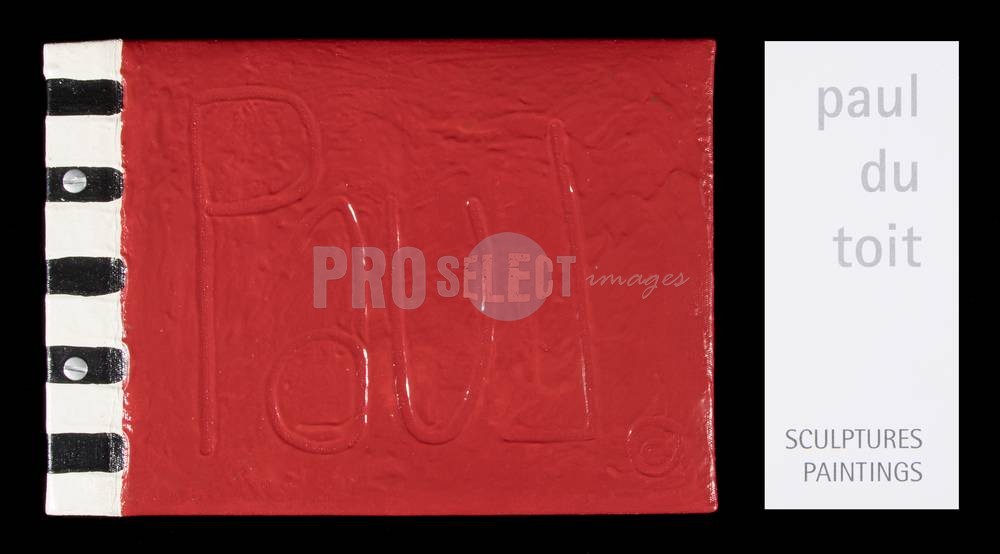 From trying to make ends meet to noteworthy achiever
Paul Johan du Toit was born on 31 October 1965 in Johannesburg. He grew up in Mayfair Johannesburg and his time was spent between his artist aunt, Elizabeth van der Sandt, and his father's workshop, where he used to create sculptures out of electrical gadgets while his aunt tutored him in oil painting techniques.
Trying to make ends meet
In 1984 Paul du Toit matriculated and in 1985 he was conscripted to the South African Air Force where he used the time to do some carpentry, make his first bronze work of an airplane and study computer science part-time through Pretoria Technikon. When he left the army he worked as a computer programmer. In 1988, the company Paul du Toit worked for went into liquidation and he worked in a boring job at the bank to make ends meet. All this time he painted at night to keep his artistic flair alive.
Turning point
In 1992, visit to Florence in Italy was to be a turning point in Paul's artistic career. So inspired was he by Michelangelo's David, that he returned fired with commitment to make his art work. This influence was further fuelled by their trip to Paris two years later, where the exposure to a group of sculptures made from polyurethane foam metal drums and plastic at the back of the Louvre, really resonated with him. He returned to South Africa and started making sculptures in his garage, from discarded materials. One of these won him the 'Best Artist with No Formal Training' at the Association of Arts in Bellville Cape.
In his Hout Bay studio Paul started using an impasto technique (thick industrial paste into which he scratched lines and images) which was to become intrinsic to his style of automatic scribbling. At this stage he also used his computer know-how to optimise his use of the internet and connect to the international art scene.
Hitting the international circuit
1998 was the year Paul hit the international circuit with his paintings being exhibited in many international and local exhibitions. He appeared on the CNN International Art Club and held his first solo exhibition in Paris. 1999 marked a continuation of the local and international interest with shows in Moscow, Edinburgh and with local corporates buying some of Paul's work. 2000 was a coup for Paul as he was selected by Professor to be one of the 70 over 2000 – a noteworthy achievement. This led to a solo and group exhibition in Cape Town as well as exhibitions in the Netherlands and France.
2000 heralded the beginning of Paul's wooden sculptures. In 2001 he was nominated to exhibit works at the Florence Biennale of Contemporary Art where he won 5th place in the sculpture section. He was also nominated for the Daimler Chrysler Award for South African Sculpture. He held two solo exhibitions one at the Holland Art Fair in The Hague and the other in Cape Town.
In 2014, du Toit died of cancer. He was 48.
Maggie Laubser
A bad mezzo-soprano voice and critical reception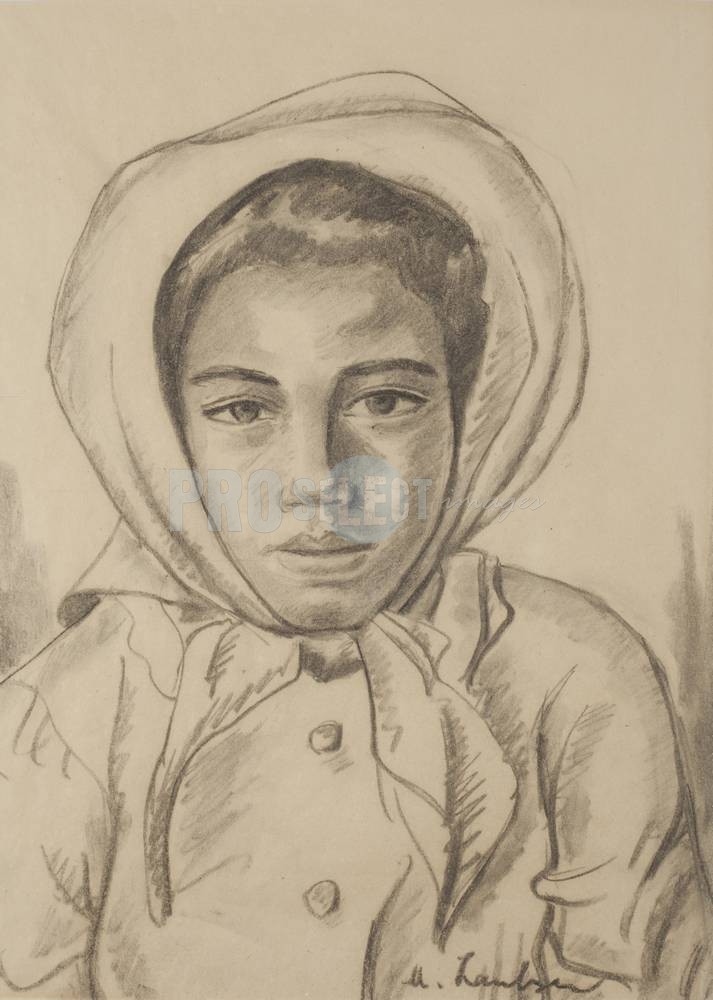 Maria Magdalena Laubser was born on the wheat farm Bloublommetjieskloof near Malmesbury in the Swartland. Laubser's youth was dominated by the rural and pastoral and she delighted in this carefree existence.
After attending the farm school Rocklands, she left for boarding school at Bloemhof Seminary, Stellenbosch, where she was introduced to the art of drawing. She returned to the farm in 1901, and during a visit to Cape Town she met Beatrice Hazel, a realistic romantic style painter, who introduced her to Edward Roworth, giving impetus to her desire to study painting.
In 1903 she convinced her parents to let her go to Cape Town once a week for singing lessons. The difficulty of travel and the low opinion her mother had of her mezzo-soprano voice discouraged her, but it was at this stage that she started painting on her own.
Early career and travels – Belgium, June 1919 to September 1920 – Italy, October 1920 to August 1921 – Germany, November 1922 to November 1924
South African debut and critical reception
In November 1924, Laubser returned to South Africa and settled at Oortmanspost, the family farm. She met sculptor Moses Kottler and the cartoonist D. C. Boonzaier, who introduced her to his son Gregoire, founding member of the New Group. She renewed her friendship with painters Ruth Prowse and Nita Spilhaus. She was asked to exhibit in Cape Town, and was cruelly disillusioned. Her work, like that of Irma Stern, met with fierce criticism, most notably from Bernard Lewis of Die Burger and The Cape Times, who as late as 1931 was able to write of her work in a group show:
"Is there any normal, sane human being in all South Africa who is able to appreciate as a work of art, to enjoy as a picture…the one sent by Maggie Laubser?"

Die Burger Bernard Lewis
Jacob Hendrik Pierneef
Although everything appeared to be going well, he was still experiencing financial problems and had to do various odd jobs to earn more money.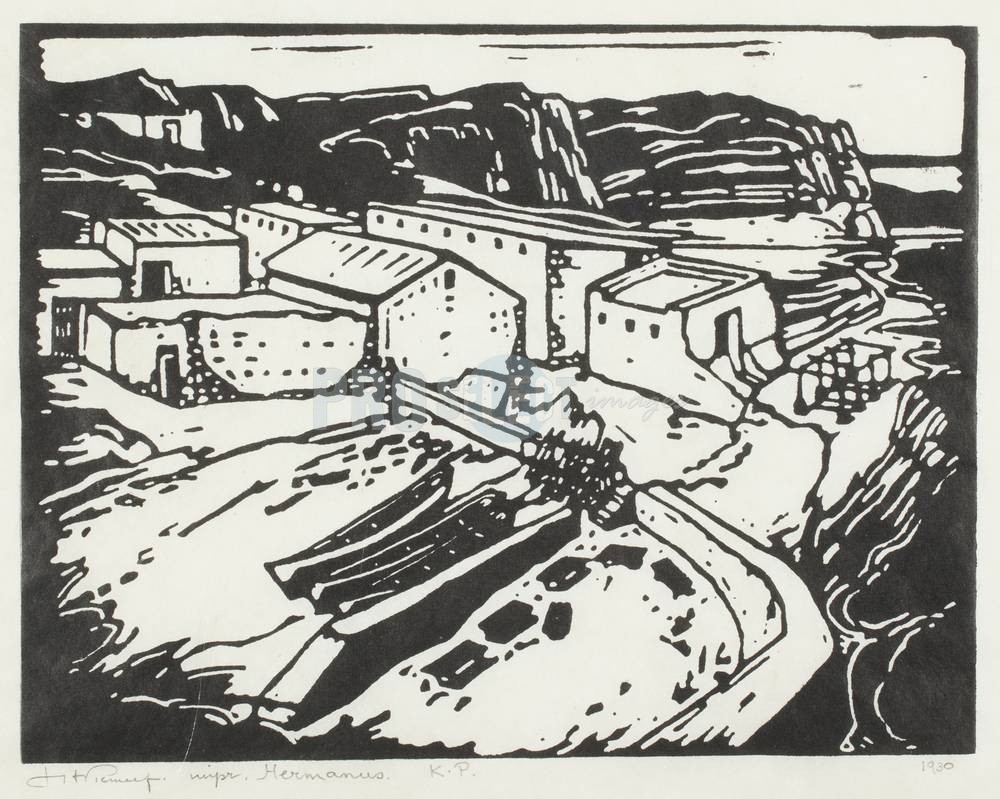 Jacobus Hendrik Pierneef was born on 13 August 1886 in Pretoria from Dutch parents. Pierneef started his high school career at the Staatsmodelschool in Pretoria and it was here that he started his art classes.
With the war of 1900 between the Boers and the English, the Pierneef family decided to move back to the Netherlands in 1901 where Hendrik continued his schooling. This experience brought Pierneef into contact with the works of the old masters and it had a lasting impression on him. He studied part time at the Rotterdamse Kunsakademie. He was a changed man when he returned to South Africa at the age of 18. Back in Pretoria the young artist crossed paths with other already established artists like Anton van Wouw, Hugo Naude, Frans Oerder, and also the Irish artist George Smithard who played an important role in the teaching of the graphic mediums like etching- and linocuts.
Good comments from the public
It was only in 1902 that Pierneef showed his works on an exhibition for the first time. It was a group exhibition with Anton van Wouw and Hugo Naude and was visited by various well known personalities. It was of great comfort to the young aspiring artist to hear the good comments from the public.
Pierneef married Agatha Delen a woman 12 years his senior against all advice from both families on 16 February 1910. Pierneef was 23 and his new bride was 35 years old. He worked at the State Library at night and during the day he painted in his studio.
Work of a genius
In 1911 Pierneef took part in a group exhibition in Johannesburg and submitted two etchings which were both sold. It was however his first solo exhibition in Pretoria in 1913 that lead the critics to describe his work as that of a Genius. This inspired him greatly to continue working even harder and more disciplined.
His second solo exhibition was held two years later and this show included a large contingent of new work as well as some graphic works. The exhibition was reviewed favourably. Pierneef researched South African Art and the influences thereon and often spoke about this subject.
During this period, he did various illustrations for a number of periodicals and books including Die Brandwag in 1917 and The Independent in 1919. In 1918 after 9 years in the State Library, Pierneef started a career as an Art Lecturer at the Heidelberg College of Education. In 1919 he also started teaching drawing at the Pretoria College of Education. He never stopped exhibiting and constantly took part in various group exhibitions.
Career as art lecturef failed
His new career as art lecturer didn't work out as Pierneef had planned since the curriculum and the Department of Education's system was based heavily on the English system which he didn't believe in. He felt that the South African artists should have their own style and set of rules to follow. He resigned and decided to spend all his time on his painting career and became a full time artist. It was a difficult time in the life. His wife suffered from a mental disorder and also started to lose her sight. Although supportive of her husband's decisions, her increasing dependence on him, because of her medical condition made him work harder – he toured the country, lectured and exhibited extensively.
1920 Pretoria exhibition
In 1920 Pierneef had a major exhibition in Pretoria with more than 300 works in various mediums. He received very favorable reviews. In 1921 he exhibited in Stellenbosch. He went back to Pretoria and started preparing for an exhibition in Cape Town. This exhibition which was held in 1921 was also a very successful event and only two years after becoming a full time artist Pierneef realised that there was finally recognition for his work and that he was setting the trend for a unique South African style.
1923 Namibia visit
In 1923 he visited Namibia and sketched extensively for paintings that which would later be completed in his studio. Pierneef worked diligently and only two months after his arrival in Namibia he had an exhibition of more than 30 works. It is said that some of his best works come from this period. Although everything appeared to be going well, he was still experiencing financial problems and had to do various odd jobs to earn more money.
Meeting his second wife
He started working for a Mr. Johan Schoeman at the Hartebeespoortdam with an advertising project to sell the land around the dam. He stayed in the Hotel Agnes and here he met his second wife, a Dutch woman May Schoep. In 1923 he got divorced from his first wife and in 1924 Pierneef married again.
New vitality and enthusiasm
In 1925 he had an exhibition in Johannesburg and it was clear that the fifty works on show showed a new vitality and enthusiasm. In 1925 the couple went to Europe were Pierneef worked hard to promote himself but also to learn about the different art movements. In the same year he also had an exhibition in the Netherlands and it was especially the Bushmen drawings that sparked great interest. In 1926 they returned on a ship which sailed along the east coast of Africa and he sketched the ports where they docked. In 1927 after the birth of his daughter Pierneef had a very successful exhibition of 86 works in Pretoria.
'Shockong futuristic' works
In 1928 Pierneef shocked the traditionalists by including some abstract modern and as some called it "Futuristic" works in an exhibition. These were not accepted as well as his traditional works that he became known for and after bad reviews from people like Anton Van Wouw, he had to revert back to his old style.
Johannesburg Station Building panels
In 1929 Pierneef was commissioned to do the 28 panels for the inside of the new Johannesburg Station Building which kept him occupied for the next three years. He however continued working for exhibitions during this time and also designed various catalogues and brochures. The panels were completed in 1932 and are till on display today and seen as one of the highlights in his career. In 1933 he received his second commission to do seven murals for South Africa House in London which he finished in 1934. Back in South Africa he was painting again and had major exhibitions in Cape Town and Pretoria in 1935. He died in 1957.
The authorized comic book Nelson Mandela
A unique Nelson Mandela Foundation and Umlando Wezithombe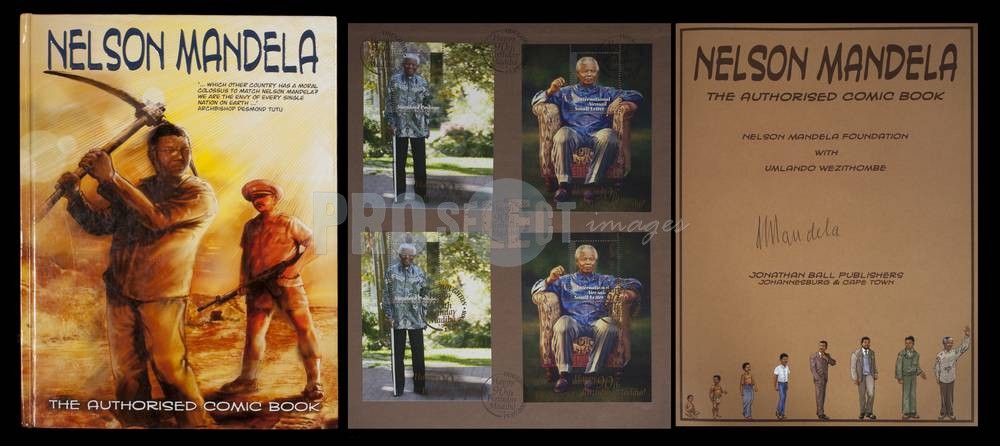 The fantastic, heroic life of Nelson Mandela is brought to life in this landmark graphic work. Nelson Mandela's memoir, Long Road to Freedom, electrified the world in 1994. It is the story of a solitary man who, despite unbelievable hardships, brought down one of the most-despised regimes in the world. Fifteen years after the publication of that classic work comes this fully authorized graphic biography, which relays in picture form the life story of the world's greatest moral and political hero—from his boyhood in a small South African village to his growing political activism with the ANC, his twenty-seven-year incarceration as prisoner 46664 on Robben Island, his dramatic release, and his triumphant years as president of South Africa. With new interviews, first-hand accounts, and archival material that has only recently been uncovered, this visually dramatic biography promises to introduce Mandela's gripping story to a whole new generation of readers.