Artist Marjorie Wallace
SA Art including Artist Marjorie Wallace , Collectables & Numismatics Auction – Including the private collection of the late Pik Botha.
Saturday 6 April 2019
This is probably the product photography that I enjoy most. Capturing the work of great artists.

Realist painter working in a broad, narrative style


The Scots-born Marjorie Wallace made a deep impression on the cultural life of her adopted South Africa.
Wallace has been characterised as "a realist painter working in a broad, narrative style" (Berman 1983:483). But this observation underplays her penchant for emphasising flattened areas of oil colour, fairly loosely applied in a light and often bright key. It was an approach that well-captured the light and mood of the Western Cape especially. During the 1960s and 70s when abstraction tended to dominate artistic thinking, Wallace resolutely declared her attachment to, and preference for, the human subject.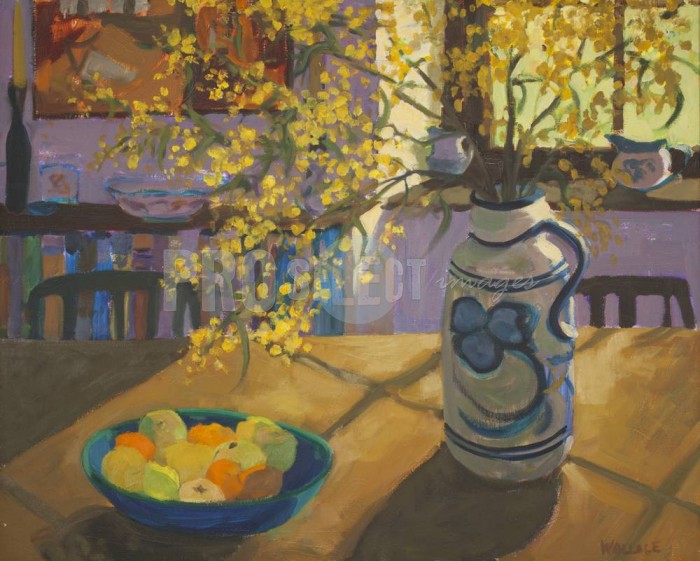 Visiting Europe and Italy
Upon her graduation from art school in Edinburgh in 1947, Wallace was awarded a travel grant to visit Europe and Italy. She finally gravitated to Paris and settled in Montparnasse, like most aspirant young artists at that time.
In was in this fertile artistic and literary context that she encountered the South African writer Jan Rabie and his dissident Afrikaans literary circle which later became known as "die Sestigers". The group broadly consisted of André Brink, Breyten Breytenbach, Etienne Leroux, Ingrid Jonker, Adam Small, Bartho Smit, Chris Barnard, Hennie Aucamp, Dolf van Niekerk, Abraham H. de Vries and Elsa Joubert. In 1955 Wallace and Rabie were married in Paris and the couple came to South Africa. They initially settled in Cheviot Place, Greenpoint, Cape Town.
Sestigers
The philosophy of the "Sestigers" had been essentially born in Paris. It was a literary and experimental expression of disenchantment and rebellion against the Afrikaner status-quo and apartheid in post-1948 South Africa. It predates any explicit association with the international anti-apartheid movement and sought to redeem the Afrikaans language and South Africa from the isolation and backwardness into which Afrikaner Nationalism was leading the country. Wallace exhibited to some acclaim upon her arrival in South Africa in 1955, and she quickly became a fluent Afrikaans speaker. Her subject-matter began to reflect an engagement, not only with the ideals of Rabie's literary associates, but with the poor and dispossessed under apartheid.

Marginalised people in society
People "were always important to Wallace, according to her friend and biographer Amanda Botha but she never had a voyeur's approach. She lived alongside the people in her paintings … her lasting contribution is (her) cultural-historical record of work on the marginalised people in society." Black artists were encouraged by her work. She advised and taught the Langa-based Gladys Mgudlandlu and helped to promote her career as a painter. Wallace's portrait of the tragically short-lived poet Ingrid Jonker (1933-1965) (Iziko South African National Gallery), became the focus of much media attention after Nelson Mandela read Jonker's poem Die Kind (wat doodgeskiet is deur soldate by Nyanga) at the opening of South Africa's first democratically-elected parliament in 1994.
In 1965, seeking escape from the stifling atmosphere of apartheid South Africa, Wallace went with Rabie to the United States for five months, and from there to the island of Crete where the couple lived for three years. Their sojourn in the Mediterranean and their various visits made to Israel, Lebanon and Turkey is reflected in many of Wallace's paintings. By 1970 Wallace and Rabie decided to return to South Africa to live in relative isolation at Vermont, near Onrusrivier in the Western Cape. Here they formed an artistic and literary colony. Wallace turned her attention to illustrating a number of Rabie's books, including the prize-winning Die See Boek van die Sonder Kossers (1979).
REVISIONS – expanding the narrative of South African art